Do you believe in the symbolism of numbers and dates? Frédéric Malle is one who leaves nothing to chance, and believes in signs. When launching his own brand in the year 2000, he opted to do so on June 6, as a reference to the allied landings in Normandy on June 6, 1944. What finer metaphor for the launch of a brand that would resolutely push the boundaries of haute perfumery?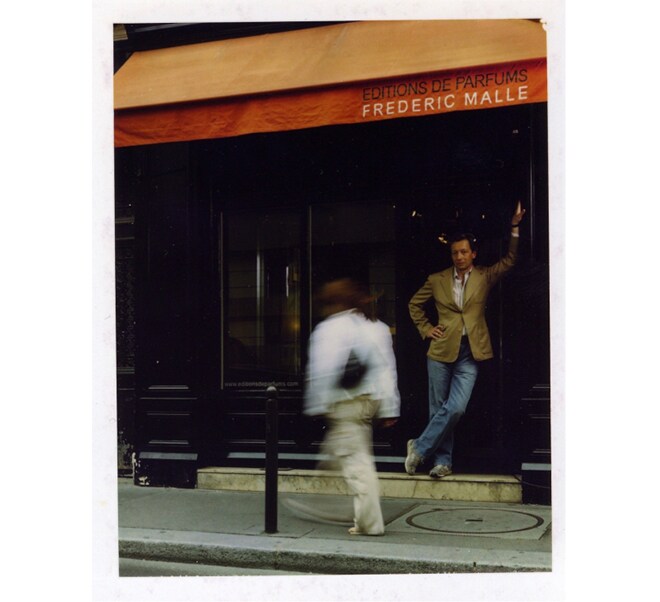 Frédéric Malle is a man of taste who believes in the virtues of well-conceived and well-executed work. But he's also a singular character deeply in tune with his own instincts and his unconditional desire for freedom. So when he launched his brand, he did so in his own inimitable way.

In 2000, global perfume was to luxury what blockbusters are to American cinema, an avenue whose actors and products are not always of the highest quality, characterized by rather well-worn clichés. At the age of 38, having been trained at Roure where he became acquainted with the greatest noses, and with a total of fifteen years in the profession, Frédéric Malle would finally fulfill his mad desire to shake everything up and show what he had to offer.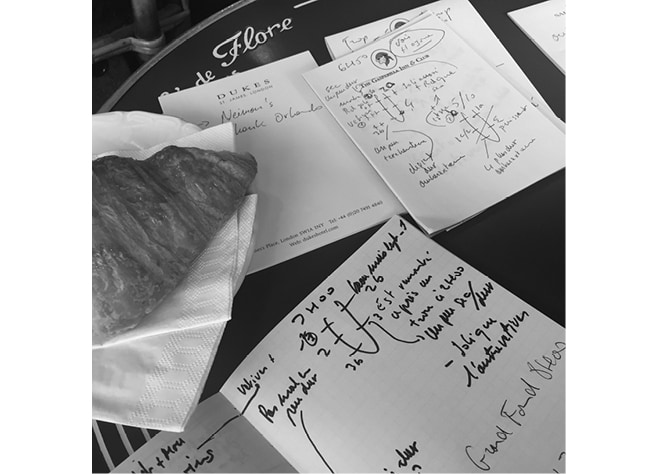 Because he knew the international aura of St. Germain-des-Prés, Malle chose to open his first boutique at 37 rue de Grenelle in Paris. The "Latin Quarter" is a place that he knows by heart, where he has his habits and landmarks of his daily life, such as the Café de Flore, where he calls the waiters by their first name, having been a "regular" for so many years.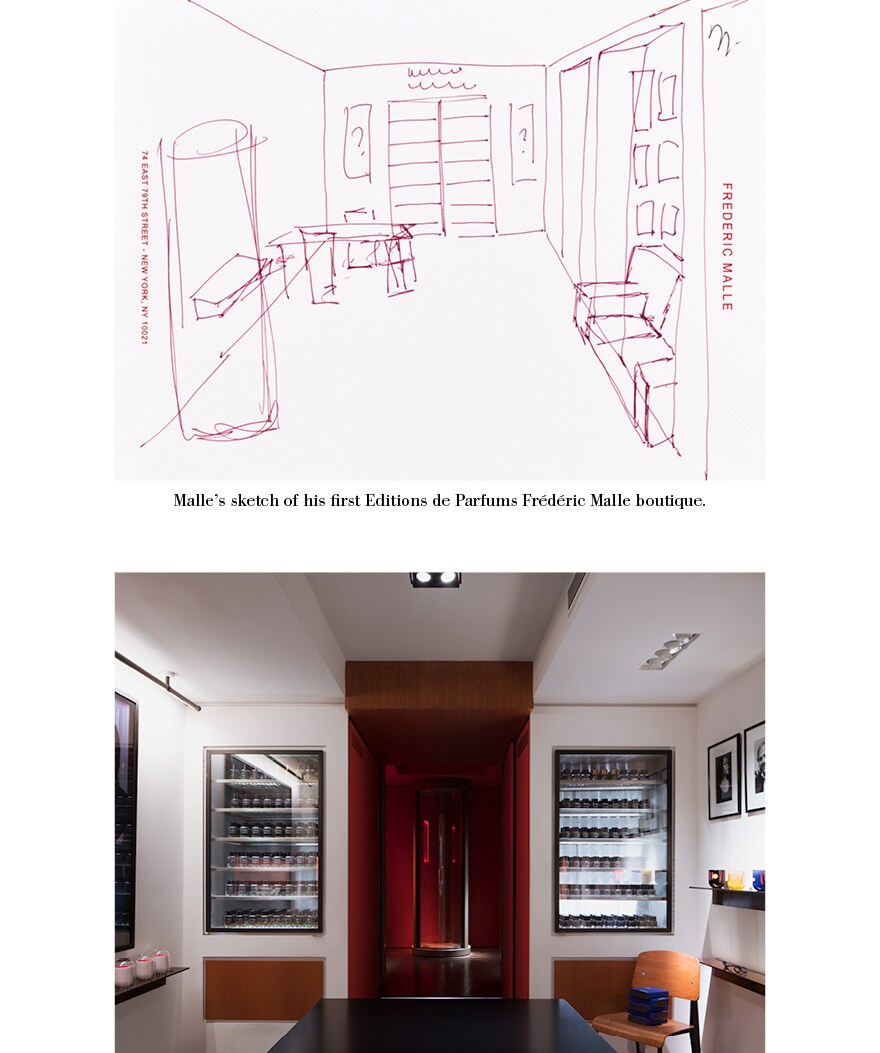 At the opening, Frédéric Malle welcomed into the modestly sized boutique curious onlookers, journalists, and friends both famous and unknown.

While at the time perfumes were presented in an undifferentiated manner in self-service stores, Malle decided to go against the grain, and created a true showcase, a place dedicated to true perfume lovers. Determined that the shop should be a welcoming place and an experience in itself, he conceived it with Andrée Putman, entrusted its realization to Olivier Lempereur, and himself chose the furniture and supervised every element of the presentation down to the smallest detail. This first Editions de Parfums Frédéric Malle boutique set the tone for those that would follow. In line with the brand name, the boutique gestures toward the very St. Germain concept of the publishing house. On the wall hang portraits of the authors as well as the perfumes they have created. The visitor discovers how the role of the publisher is to work with his authors, pushing them to give their very best; and that perfumery is an art with the power to create worlds that can touch our dreams, our desires, and our very identity.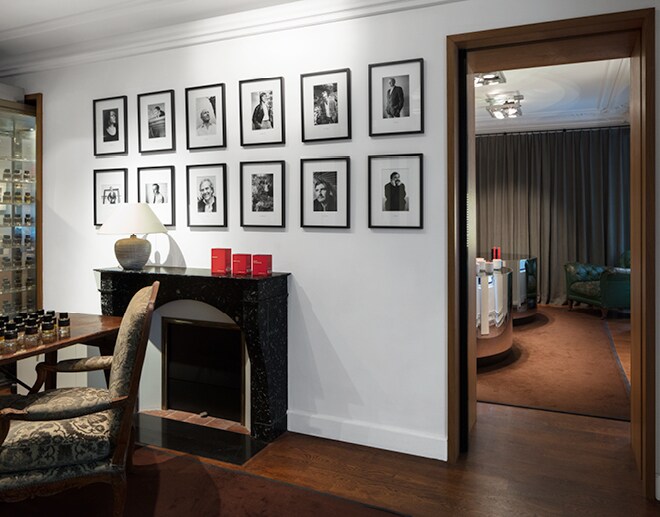 As he writes, modestly: "The sole purpose of the boutique was to represent and sell a collection of nine perfumes, available in three sizes, 100ml, 50ml and 5ml."

So it was that 6/6/2000 saw the release of nine new creations composed in complete freedom by the greatest perfumers in the world. Nine exceptional perfumes whose evocative titles resonate like invitations.
Iris Poudre by Pierre Bourdon
The first perfume created by the house, and the first in a line of compositions constructed around a single extraordinarily precious ingredient.

Musc Ravageur by Maurice Roucel
"A perfume that goes against the olfactive tendencies of the times, heralds a renaissance of oriental perfumery, and invites us to reflect on the sensuality of perfume. A classic that fuses with the skin and makes no compromise." - Frédéric Malle. Musc Ravageur was to become one of the house's bestsellers.

Le Parfum de Thérèse by Edmond Roudnitska
"A twentieth-century masterpiece, created by one of the greatest artists in modern perfumery for his wife Thérèse, who was the only person to wear it until I asked permission to publish it, and she bequeathed this testament to me as if it had been written." - Frédéric Malle.

Angéliques sous la Pluie by Jean-Claude Ellena

En Passant by Olivia Giacobetti
Lys Méditerranée by Edouard Fléchier
Noir Épices by Michel Roudnitska
Lipstick Rose by Ralf Schwieger
Une Fleur de Cassie by Dominique Ropion